HONEY-CAN-DO 9-Pack Combo Set Vacuum Packs, Main, color, CLEAR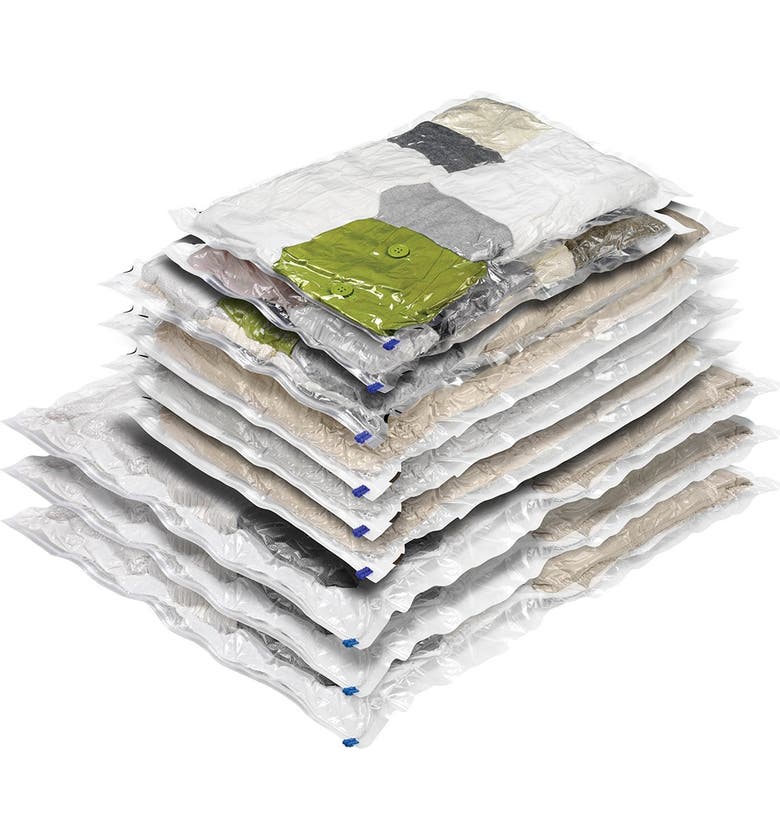 Details & Care
Honey-Can-Do VAC-03110 9-Pack Vacuum Pack Combo Set. Vacuum packs are vacuum sealed storage bags designed for compacting and storing everything from large seasonal clothing to pillows, linens, and comforters. Simply place your items into the bag, attach any hose-style vacuum cleaner, and watch as the air is removed and items compress into a smaller, manageable pack. Honey-Can-Do vacuum packs protect your stored items from dirt, insects, and moisture keeping contents fresh and damage-free. These units are reusable making them an excellent value. Pack includes two large vacuum bags, four x-large bags and three jumbo bags.
- Color: clear - 9 pack - Imported Set includes: - Two 21.5" L x 33.5" W large vacuum bags - Four 27.5" L x 40" W extra-large vacuum bags - Three 36.25" L x 48" W jumbo vacuum bags Orders cannot be shipped to Canada, Puerto Rico, APO, FPO or P.O. Boxes.

0.17 mil vinyl

Item #6527688
Shipping & Returns
This item qualifies for free shipping on orders over $89. View Shipping & Returns Policy.
Returnable through 2/7/22 by mail or to a U.S. Nordstrom Rack or Nordstrom store if purchased between 10/18-12/24/21.
9-Pack Combo Set Vacuum Packs
Price
$28.97
Original Price
$35.99
19% off
FREE SHIPPING ON ORDERS $89+
Get a $60 Bonus Note when you use a new Nordstrom credit card. Apply now
Honey-Can-Do VAC-03110 9-Pack Vacuum Pack Combo Set.