MATTEL Polly Pocket(TM) Jumpin' Style(TM) Pony Compact, Main, color, HORSE SHOW COMPACT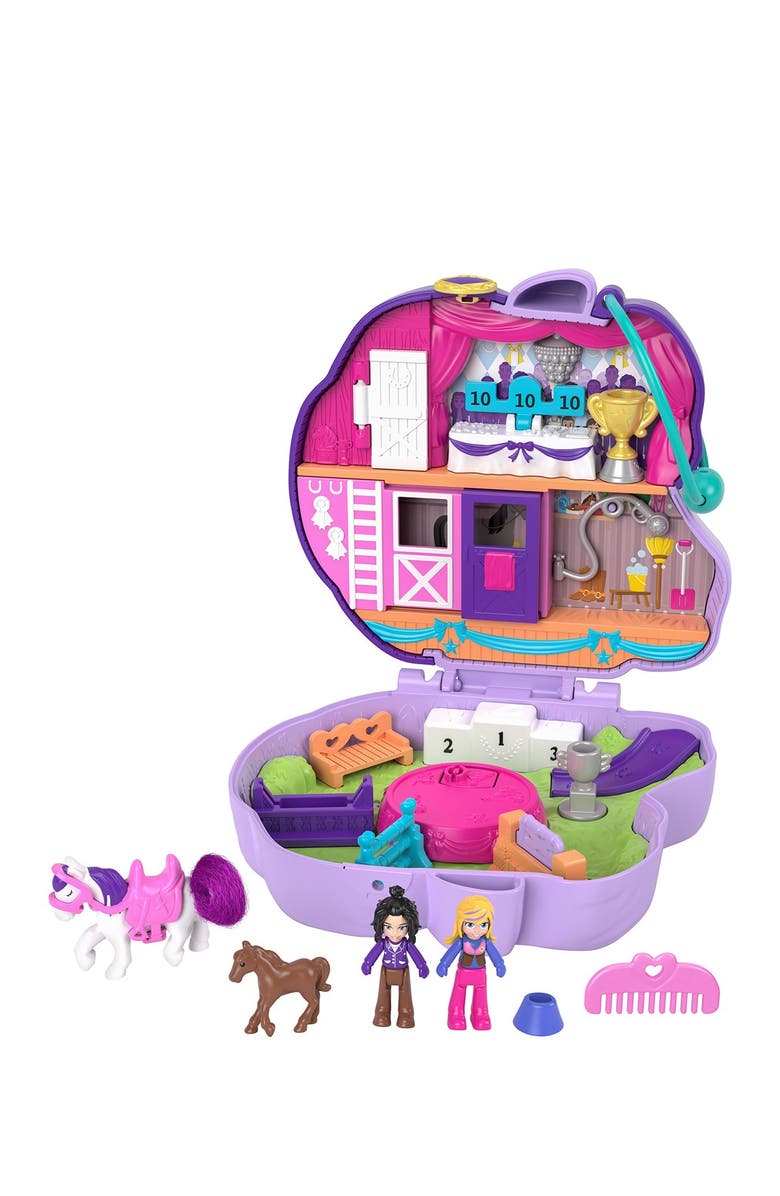 Details & Care
Time for Tiny Pawprints adventure with Polly Pocket(TM)! Perfect for play at home or on the go, the larger-sized Jumpin' Style(TM) Pony compact is shaped like an adorable horse and opens to reveal a micro horse show! Kids will love discovering fun reveals and surprises along with micro Polly(TM) and her friend doll who have 5 movable joints for pose and play action. They also have their 2 horse friends along for the fun (1 has a saddle and tail hair) plus there's a skirt piece and secret comb to discover! Get the fun started by sliding the barn door to get the horse out and into the shower area for grooming. Then it's time to go through all the jumps (one folds up) and clip the horse to the podium for dressage?turn and show the horse! Go upstairs for judging?flip up the score and it's all 10's?way to go! Next up?grab the #1 trophy! What a competition! The compact also comes with a wristlet strap so kids can take it on the go for fun Polly Pocket(TM) adventures anytime, anywhere! Colors and decorations may vary. Makes a great gift for ages 4 years old and up especially those who love horses, jumping and horse show competitions!
- Ages 4+ - Approx. 4.4" x 1.77" x 3.54" - Imported

Wipe clean.

Plastic

Item #6488914
Shipping & Returns
This item qualifies for free shipping on orders over $89. View Shipping & Returns Policy.
Returnable through 2/7/22 by mail or to a U.S. Nordstrom Rack or Nordstrom store if purchased between 10/18-12/24/21.