FRENCH HOME 14" Olive Wood Cutting Board & 3 Assorted Laguiole Cheese Knives, Main, color, BLUE AND IVORY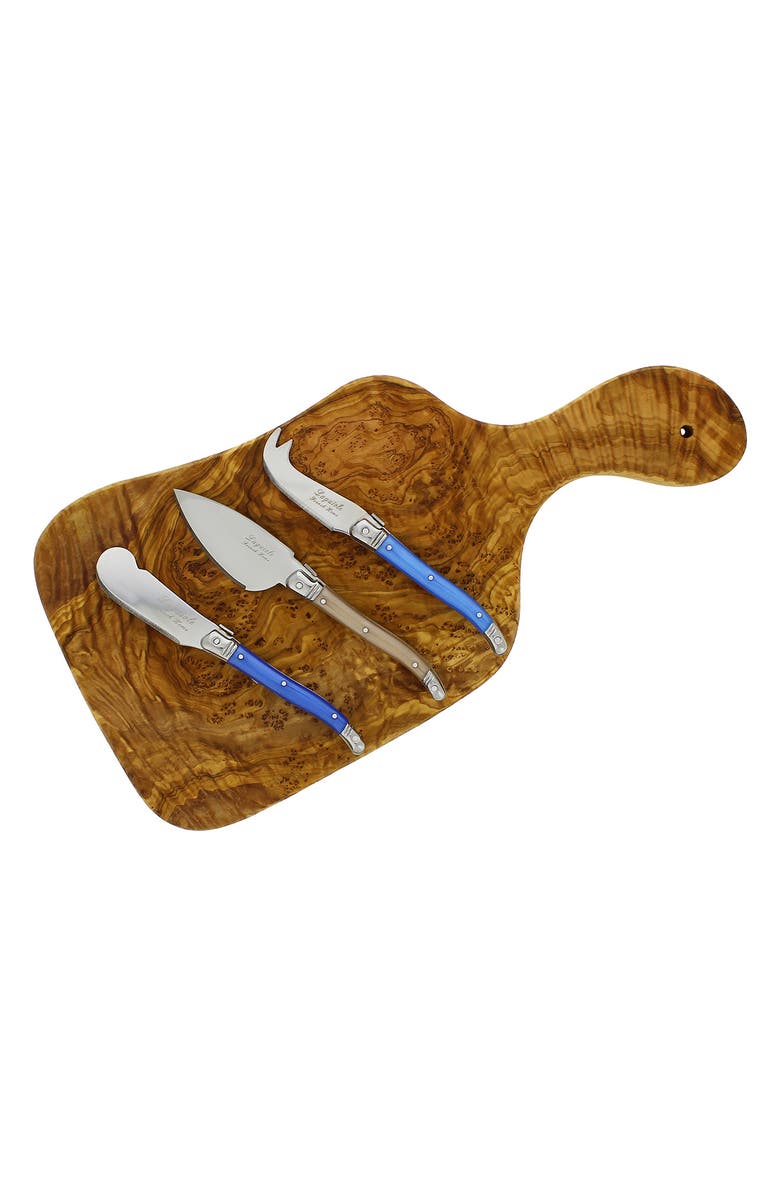 Details & Care
This beautiful olive wood cheese board is combined with a set of 3 Laguiole cheese knives making a wonderful display for a variety of cheeses. The elegant Laguiole design knives with the iconic threeRivet curved handle and bee emblem are comfortable to hold and perfectly balanced. The set includes a spade, spear and soft cheese knife. Olive wood grown in the Mediterranean region has a unique grain that is warm and durable. It is repurposed by craftsmen into a classic French Home cheese board. The design reflects the contemporary style and elegance of cosmopolitan Europe
- 4-piece set - Attractive and durable hard wood - Ideal for cutting, slicing and serving - Does not retain odor - Due to the handcrafted nature and natural wood grain, no two pieces are the same - Color: blue/ivory - 14" L x 6.5" W - Imported Set includes: - Board: 14"L x 6.5"W x 1"H - Spade: 6.25" length - Fork Tipped Spear: 5.75" length - Soft Cheese Spreader: 6" length Please note your order will be shipped directly from the brand. Orders cannot be shipped to Australia, Canada, Alaska, Hawaii, Puerto Rico or P.O. Boxes.

Dishwasher safe knives

Olive wood, stainless steel, acrylic

Item #6556703
Shipping & Returns
This item qualifies for free shipping on orders over $89. View Shipping & Returns Policy.
Returnable through 2/7/22 by mail or to a U.S. Nordstrom Rack or Nordstrom store if purchased between 10/18-12/24/21.
14" Olive Wood Cutting Board & 3 Assorted Laguiole Cheese Knives
Price
$45.97
Original Price
$62.00
25% off
FREE SHIPPING ON ORDERS $89+
Get a $60 Bonus Note when you use a new Nordstrom credit card. Apply now
This beautiful olive wood cheese board is combined with a set of 3 Laguiole cheese knives making a wonderful display for a variety of cheeses.