DEER STAGS Benton Jr. Classic Lace-Up Wingtip Hybrid Sneaker Dress Comfort Oxford, Main, color, BNTNJRHTEC-001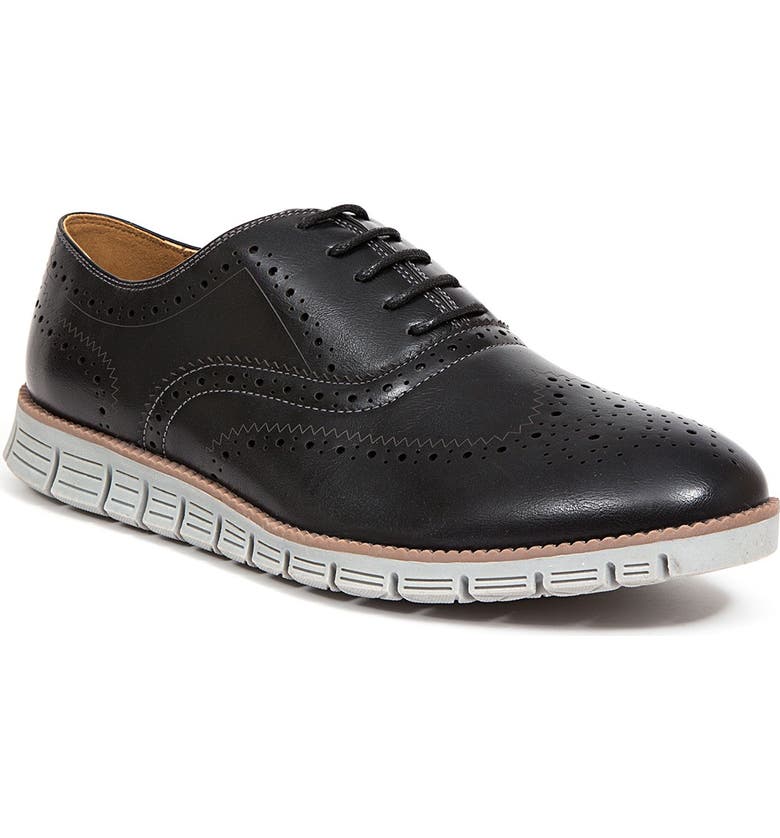 Details & Care
The dress shoe you won't have to beg and plead for them to wear! With all of the looks of a dress shoe, but the comfort and sensibility of a sneaker, the Benton Jr is a win-win for you and your kid! QUALITY YOU CAN TRUST: Deer Stags has been making shoes since 1929. We are a 3rd generation shoe family and stand behind our products 100%. If you ever have a problem with your shoes, know that we are dedicated to making it right. VERSATILE STYLE: The rich synthetic uppers with wingtip brogueing offers your kid a classic look appropriate for formal events like weddings, while the modern sneaker-like bottom makes the Benton Jr a shoe for every day. COMFORTABLE ALL DAY: The cut-out EVA insole sock is cushioned for extra comfort. The classic lace-up oxford brogue style allows for a secure and customizable fit. DURABILITY: The flexible and durable TPR outsole will feel like their favorite pair of sneakers. M=standard width
- Round wingtip toe - Faux leather construction - Brogue detail - Lace-up closure - Lightly padded footbed - Grip white sole - Imported This item cannot be shipped to Canada.

Faux leather upper, TPR sole

Item #6483753
Shipping & Returns
This item qualifies for free shipping on orders over $89. View Shipping & Returns Policy.
Returnable through 2/7/22 by mail or to a U.S. Nordstrom Rack or Nordstrom store if purchased between 10/18-12/24/21.
Benton Jr. Classic Lace-Up Wingtip Hybrid Sneaker Dress Comfort Oxford
Price
$48.97
Original Price
$70.00
30% off
FREE SHIPPING ON ORDERS $89+
Get a $60 Bonus Note when you use a new Nordstrom credit card. Apply now
The dress shoe you won't have to beg and plead for them to wear!